Should you refinance your mortgage?
Investing in a property is a wise move. Refinancing your mortgage is one option to use your house as an investment fund. Refinancing may be done for a variety of reasons, including obtaining additional funds from your house, reducing your monthly payment, and decreasing the length of your loan.
Like many other homeowners, you've certainly been bombarded with offers from lenders promising that refinancing your mortgage at a cheaper rate can save you hundreds of dollars each month. If you're considering refinancing, you might be thinking if now is the best time.
The first thing you need to know before deciding whether or not to refinance your mortgage is how much you can save and how much it will cost you.
Refinancing a Home Loan
Refinancing is changing your current mortgage for a newer one with a different interest rate and a different principle. You'll only have to make one payment per month when your lender pays off the old mortgage using the proceeds from the new one.
Refinancing one's house can be done for a variety of reasons. Your home's equity can be used in a cash-out refinance or a rate-and-term refinance to lower your monthly payment.
Refinancing a mortgage can also be used to remove a spouse from the loan, which is common in divorce cases. Finally, you can include another borrower on your mortgage.
Refinancing makes sense, according to a financial consultant, if you can lower your interest rate and plan to stay in your home for at least three years.
Refinancing can also be used to consolidate debt, fund home renovation projects, or switch the type of loan you currently have. So if you have an adjustable-rate mortgage, switching to a fixed-rate loan may help you avoid higher monthly payments if the rate rises after the first fixed term has passed, for example.
Is Refinancing a Good Idea?
There is, if you're searching for a rapid payoff and a shorter duration. A cash-out refinance is an option if you have enough equity in your house to refinance into a loan without mortgage insurance.
A cash-out refinance as well as a rate and term refinancing It's possible to take out a new mortgage loan that's more than the amount of your present mortgage. It's up to you what you do with the extra money.
Rate and term refinancing, on the other hand, involves taking out an equal-to-your-current-mortgage loan from a new lender. Your old loan is paid off, and you may be able to receive a better rate or better conditions on a new one.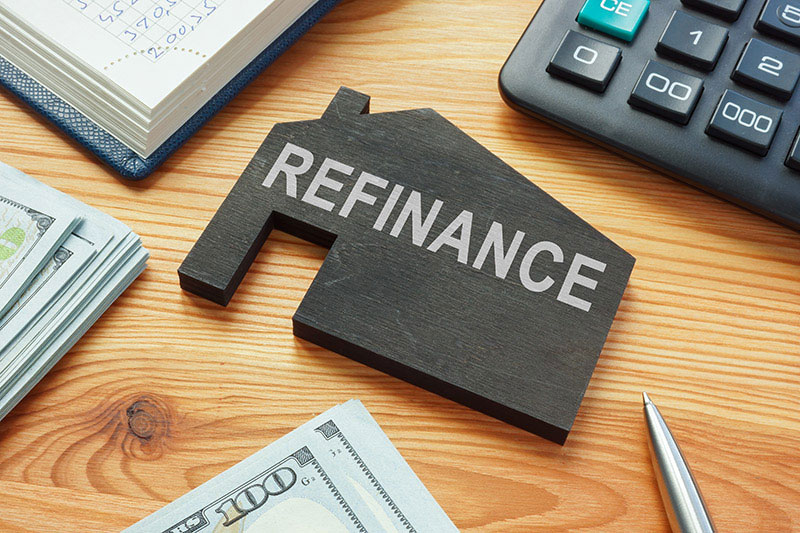 Mortgage Refinancing Advice
If you have less than 20% equity in your home, lenders will often need mortgage insurance. If you default, it safeguards their financial interests. If you're looking to save money by refinancing, make sure to include in the cost of mortgage insurance.
Refinancing fees might be compared to your present monthly payment to see if it's worth the effort.
Several online calculators may help you estimate your savings by inputting the new loan amount, the interest rate, and the loan period. Take use of it to get a sense of how much money you'll be spending each month.
Aside from the appraisal and credit check, there are also origination and closing expenses to consider when figuring out how much you may save by refinancing your home. Verify if paying off your present debt early is subject to a fee as well. As soon as you know what interest rate you can get, you'll be able to figure out how much money you can save each month by renegotiating the terms of your current loan.
Ask your lender to run the figures on a loan term equivalent to the length of your present mortgage. Mortgage rates may be lowered, payments can be reduced, and interest can be saved by not extending the duration of your loan.
You may save money on your monthly interest payments by refinancing your mortgage at a lower interest rate. If you pick a longer or equivalent loan period, your payments will be cheaper as a result.
Refinancing from a longer to a shorter loan term can also help you save money on interest.
It's possible to free up income to pay off high-interest credit card debt by cutting your mortgage payment or refinancing for a cash-out.
With the monthly savings from refinancing your mortgage, you'll have extra cash on hand to make much-needed repairs and upgrades around the house.
Take-Aways
Refinancing is a terrific method to make the most of your home's equity when the time is perfect. To save money in the long run, you can amend your loan duration, receive a lower interest rate, or change your loan type. You can also take a loan against the equity in your house and pay it off as you see fit.
You should consider if your present residence will be suitable for your current and future needs. If you refinance while you're near to beginning a family or having an empty nest, you may not stay in your property long enough to break even.
Credit card debt, new vehicle purchases, and student loan debt may all reduce your credit score. This is why it's important to keep an eye on your credit score while applying for a new mortgage. It's a good idea to work on improving your credit first before looking into refinancing.
Waiting until you've paid off some debt, ensuring sure there are no errors in your credit report and allowing your credit history to heal over time with timely payments might all help you get a better deal on your mortgage.
You may accumulate wealth by reducing your monthly mortgage payment. Keep up with your present mortgage payments and work on boosting your credit if refinancing now isn't the best option for you.
Refinancing should cut your monthly payment and lower your interest rate, saving you money over the short and long term. However, you'll want to make sure that your savings are substantial enough to prevent you from losing money on the refinance.